Chi Pu Vietnamese Singer is a popular actress, singer, and model. She is a  multi-talented working in the entertainment industry, not only in Vietnam but also in China. In recent years, she has been making headlines for her participation in a top Chinese TV show. In this article, Biographypile will delve into her biography, career, public image, activism, discography, filmography, and more.
1. Where is Chi Pu from?
Chi Pu was born on June 14, 1993, in Hanoi, Vietnam. Her real name is Nguyen Thuy Chi, but she is better known by her stage name, Chi Pu. She grew up into an scholarly family consisting of her father, mother, and an elder sister who is 11 years older than her. Her father worked in the military while her mother was a teacher, so she received strict education and guidance from her parents to follow the traditional values of their family since she was young.
2. How old is Chi Pu?
As of the current date, Chi Pu is 30 years old.
3. Early Life
However, Chi Pu herself is a talented artist and she does not like to follow predetermined paths. She also knows how to play the piano and has participated in many music competitions when she was young. In 2003, she won first prize in the Hanoi City Organ Festival.
During an interview on the show "Ánh trăng nói hộ lòng tôi" Chi Pu revealed that she had a childhood where she frequently witnessed her parents fighting, and in her memories there were only her mother's crying and the image of her packing up and leaving the house without any nostalgia.
"It is said that memories shape behavior and personality. My childhood witnessed numerous family arguments, my mother attempting suicide by hanging herself at home, and my parents physically fighting. I also saw my mother packing her bags, leaving her children behind, and saying "I'm going, I can't live in this family anymore.", she recounts the memories that used to haunt her during her childhood.
"I used to resent my parents for not allowing our family to have a moment of peace and constantly arguing with each other.", Chi Pu reminisced and as she recounted.
The older Chi Pu gets, the more she showcases her artistic talent. Despite acknowledging this, her parents are worried about their daughter and don't want her to pursue a career in the challenging field of art.
During her time studying at Le Quy Don High School in Hanoi, Chi Pu actively participated in artistic activities. At the age of 16, Chi Pu registered to participate in the Miss Teen 2009 competition and made it into the Top 20. The day she joined the competition was also a secret registration from her family.
After graduating from high school, she enrolled in RMIT University and completed the English foundation course there. However, she suspended her academic results to pursue an artistic path.
After achieving success in Miss Teen with her innocent and pure appearance, Chi Pu became incredibly famous among young people. She was invited to model for clothing advertisements for teen fashion shops and was dubbed the "sweet candy hot girl" by young people. However, no matter what, her parents still did not want her to pursue a career in the arts.
Chi Pu remembers: "At that time, my parents were extremely strict and forbade me from doing so. Nevertheless, I still snuck out of the house to take pictures, declared my desire to live independently, and even went on a hunger strike to prove my determination."
With all her efforts, Chi Pu has demonstrated to her parents her ability and seriousness in the arts. Regardless of how successful she becomes, perhaps the important presence of her "military father and teacher mother" cannot be missing on that path.
4. Chi Pu's Career
Placing within the top 20 contestants of Miss Teen 2009 was a significant achievement that brought Chi Pu's name closer to many fans and earned her the title "hot girl."
For a long time, when Chi Pu was mentioned, the audience always thought of an innocent, sweet and obedient hot girl image. She quickly dominated social media as a model, a representative image for many famous fashion brands. When Korean culture became popular in Vietnam, Chi Pu's beauty was even more loved, becoming a valuable face in the entertainment industry.
Since 2012, Chi Pu has embarked on an impressive career path in television and film. Her debut role was playing Linh in "Giọt nước rơi".
Later on, Chi Pu participated in several other film projects such as Giấc mơ hạnh phúc, Thần tượng, Cô gái trên tầng thượng, Hương ga, Chị Chị em em. Particularly, she collaborated in producing the short film "The Girl on the Top Floor" which later won the Kite Award for Best Short Film in 2014.
Chi Pu is still popular among teenage audiences for her role in the sitcom "5s Online," a program that attracts many young viewers. Playing the character Nana, the "sweet candy" girl acts coy and is the youngest member of the group, often referred to as the "Princess."
However, some time later in 2014, Chi Pu stopped participating in "5S Online" and decided to move South Vietnam to advance her career. At that time, Chi Pu had also just broken up with her three-year relationship with Cuong Seven.
Since deciding to move towards the South of Vietnam, Chi Pu has gradually shed her hotgirl image to build a more mature and professional persona. In January 2015, she participated in season 6 of Dancing with the Stars with her dance partner Georgi Naydenov and won the Runner-up prize.
In mid-May 2015, Chi Pu landed her first lead role in a film called "Yêu" directed by Vietnamese director Max. The film generated a lot of interest from audiences, especially young people, when it was announced. After its release, the film received positive feedback and earned 12 billion dong in just three days at the box office.
In 2016, she participated in the production, wrote the script and played the lead role for the web series "Tỉnh giấc tôi thấy mình trong ai"
5. The Crucial Turning Points Of Chi Pu
In October 2017, Chi Pu announced her decision to pursue a singing career by releasing a series of music videos, with her debut single being "Từ hôm nay" (Feel Like Ooh)". Despite positive reviews of the sound and visuals of the music video, a heated debate arose regarding the song's content and Chi Pu's decision to venture into singing. Many prominent artists expressed their opposition to the song and Chi Pu's decision to become a singer.
"Từ Hôm Nay" was a big start for me, a stepping stone to show everyone I was ready to leave my comfort zone – a brand new Chi Pu for this challenge. That song really changed my mindset, thinking and concept as I finally moved to a new chapter in my career with more colour and fierceness compared to the previous Chi."
Afterwards, she continuously released meticulously invested music products. However, Chi Pu's new and unique voice hasn't really convinced the audience. Alongside supporters, some frank opinions stated that the singing voice of the Hanoi hot girl is not enough to become a singer. Despite receiving many opposing opinions, the beauty still determinedly pursues her singing passion.
To demonstrate her love for music, Chi Pu released the song "Tôi vẫn hát". Later on, she boldly led netizens to the song "Mời anh vào team em", and the MV for this song titled 16 with quite sensitive scenes immediately caused a media storm when the singer confidently showed off her sexy bare back. Her sexy image surprised netizens. She continued with the story of Tấm Cám in the MV "Anh ơi ở lại" in a traditional style.
During this time, Chi Pu has participated in acting in a few film and television projects. Her best film until 2019 was "Mối tinh đầu của tôi," which she starred in.
In the same year, Chi Pu achieved success in her acting performance in the movie "Chị chị em em", which garnered a lot of attention in 2019.
In 2020, Chi Pu launched a project called "Chi Pu's Greatest Show" which aired monthly with episodes named "Ánh Trăng Nói Hộ Lòng Tôi", "Đại Chiến Thiên Thần và Ác Quỷ", "Go Everywhere See Everything". She first released the EP "Ánh Trăng Nói Hộ Lòng Tôi", on May 28, 2020, followed by the single "Cung đàn vỡ đôi".
In late 2020, Chi Pu was among the Top 100 most influential people on social media in Asia-Pacific region according to Forbes' list (Forbes Asia's 100 Digital Stars):" With over 19 million followers on social media, Chi Pu (real name Nguyen Thuy Chi) is one of the most famous female stars in Vietnam. She transitioned from a model to an actress-singer and owns the music video "Anh ơi ở lại" with over 92 million views on YouTube. She donated $50,000 (over 1.1 billion VND) towards local Covid-19 relief efforts."
In 2022, she participated in the Street Dance Vietnam program as the team captain. In early August 2022, Chi Pu announced her return to singing and the release of 5 music videos in the last 5 months of the year, with one video per month, starting with the release of the song "Black Hickey" in August and "Sashimi" a month later.
Since deciding to switch to singing, Chi Pu has been constantly surrounded by scandals and controversies that she couldn't predict. The path to becoming a singer for the young woman is not easy. Although she has yet to fully gain recognition from the audience, these experiences have been valuable lessons for Chi Pu both in the present and in the future.
6. Discography
Chi Pu has released several hit singles throughout her career, includiing
1. Talk To Me
2. Đóa Hoa Hồng (Queen)
3. Anh ơi ở lại
4. Mời anh vào team em
5.Cung đàn vỡ đôi
6. Em Sai Rồi Anh Xin Lỗi Em Đi
7. Vietnamese singer Chi Pu competes in top Chinese TV show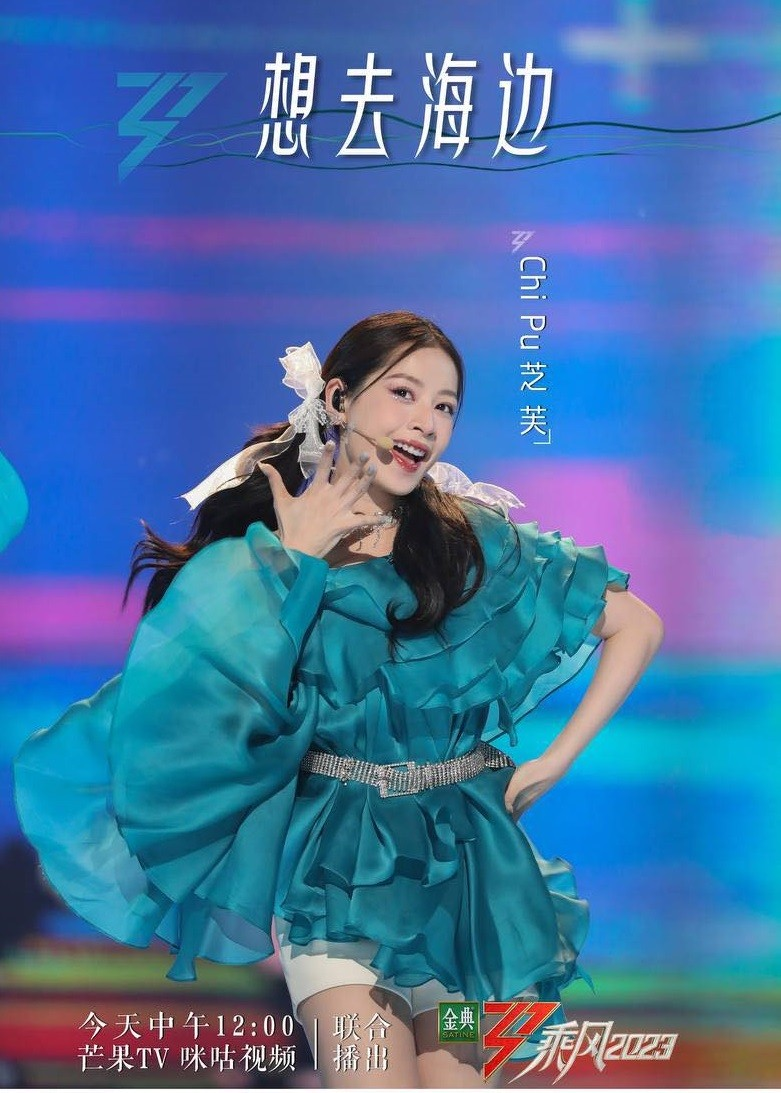 Vietnamese singer Chi Pu is one of 33 contestants competing in the fourth season of Chinese reality show "Sisters Who Make Waves."
On Friday noon, the Chinese reality show released the music video for its fourth season's theme song, which features the celebrity contestants.
Chi Pu, 30, appeared in the video wearing a red dress and singing in Chinese. Other veteran celebrities competing in this season of the show include Taiwanese singer Ella from the band S.H.E, Chinese actress-singer Jenny Zhang, Hong Kong actress Ada Choi and Taiwanese actress Alyssa Chia.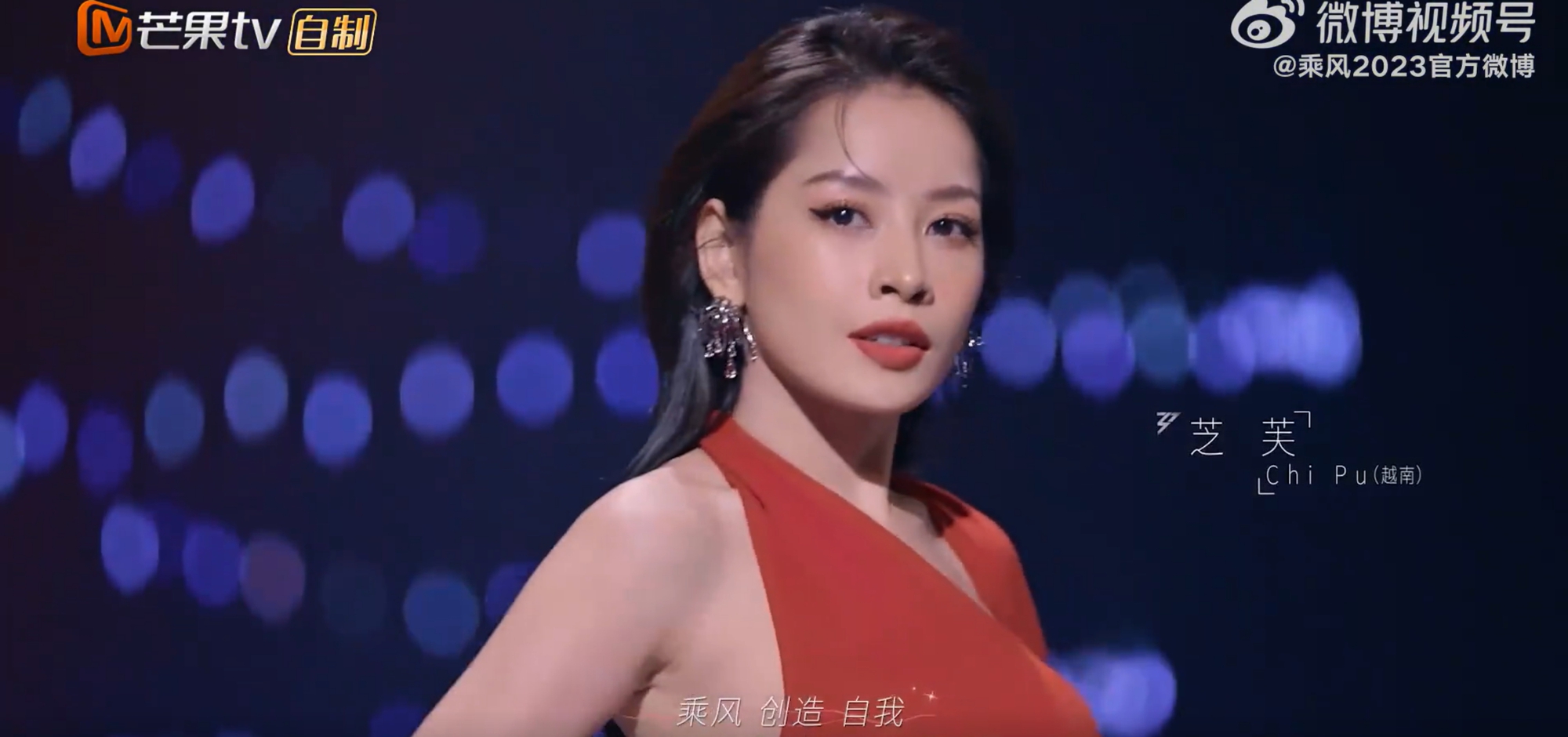 Chi Pu's agency representative announced that the Vietnamese singer is among six international participants who will take part in the fourth season of the show.
Chi Pu was invited to the show through a Thai agency. It took her team a month of research before they accepted the invitation.
Chi Pu is presently in Hunan, China where she's practicing and filming for the show. She established a profile on Weibo, China's leading social media platform, where she identifies herself as an actress and singer from Vietnam.
"Sisters Who Make Waves" is a reality TV program that began in 2020, created by Mango TV. The show features female celebrities over the age of 30 competing to become part of a seven-member girl group. It won the Best Reality Show award at the 2020 Douyin Entertainment Awards.
8. Vietnam's Chi Pu on turning criticism into motivation
She said that there were many disagreements about her first performance because she had been an actress before and was undergoing a transition. However, she remained determined to reach her goal and used the criticism as motivation for her journey.
Chi Pu admits that she has "been through a lot". "Since the beginning of my journey, I have faced significant criticism from both the audience and established singers. This made me doubt myself and question why everyone was opposing my dream and passion to become a singer, despite my immense ambition for it."
"Looking back three years later, I appreciate the criticism and pressure I received because it motivated me to improve myself as Chi Pu. Although public criticism still happens occasionally, I am grateful for the support from my fans and others which helps me continue on this path."
Chi Pu has overcome a lot of criticism, belittlement, and obstacles from people around her to pursue her passion in the singing. She has become a versatile artist who constantly strives to break out of her comfort zone and take risks to achieve many successes.
9. Chi Pu Philanthropy
In 2019, she donated 1 billion Vietnamese dong to support the fight against the Covid-19 pandemic. The funds will be used to import machinery, equipment, and cover the installation costs of a negative pressure isolation room in Hanoi, as well as provide 5000 sets of protective gear for doctors and healthcare workers across the country. All of the financial resources for this project were contributed by the female singer herself.