Katie Ledecky, American Swimmer: Biography, Latest News Facts
Katie Ledecky is an iconic figure in the world of swimming, renowned for her exceptional talent and numerous achievements. Ledecky's journey to becoming one of the greatest swimmers of all time is nothing short of remarkable. From her early life and rise to stardom, to her records and achievements, training regimen, Olympic journey, impact on women's swimming, personal life, philanthropic endeavors, challenges faced, and future prospects, this article delves into every aspect of Katie Ledecky's extraordinary career.
1. Katie Ledecky's Early Life and Background
Katie Ledecky, an American swimming sensation, was born on March 17, 1997, in Washington, D.C. She is the daughter of David and Mary Gen Ledecky and has two younger siblings named Michael and Isabella. Katie's parents have been strong influences in her life, fostering a supportive environment that nurtured her athletic abilities from a young age.
Growing up in Bethesda, Maryland, Katie attended Stone Ridge School of the Sacred Heart, a Catholic all-girls institution. It was during her time there that she first started making waves in the competitive swimming world. At just 6 years old, she joined the Palisades Swim Club and began training under Yuri Suguiyama, who would later become her long-time coach.
Katie Ledecky's early life and background laid the foundation for her extraordinary success in the world of swimming. Supported by her loving family and fueled by her passion for the sport, she emerged as one of the greatest swimmers of all time. Despite her accomplishments, she remains humble and committed to pushing the boundaries of her own potential, inspiring generations of athletes to dream big and work hard to achieve their goals.
2. Katie Ledecky's Rise to Swimming Stardom
Ledecky's passion for swimming quickly became evident as she dedicated herself to the sport. Her exceptional talent shone through, and by the age of 14, she had achieved national recognition with impressive performances at various meets. In 2012, she qualified for the United States Olympic Trials, where she stunned the swimming community by securing a spot on the Olympic team at only 15 years old.
After her breakout performance at the Olympics in London, where she won a gold medal in the 800-meter freestyle event, Ledecky solidified herself as a rising star in the swimming world. She continued to dominate throughout her high school years, breaking numerous records and earning multiple accolades.
In 2014, Ledecky made the decision to forego college swimming opportunities and turned professional to focus full-time on her training and career. This allowed her to fully commit to achieving her goals in the pool. Under the guidance of Coach Suguiyama, she pushed her limits, constantly striving for perfection and raising the bar for women's swimming.
Over the years, Ledecky's dedication and hard work paid off in remarkable ways. She has broken over 14 world records and won numerous gold medals in major international competitions, including the Olympic Games, World Championships, and Pan Pacific Championships. Her dominance in long-distance freestyle events is unparalleled, with her unmatched speed, strength, and endurance setting her apart from her competitors.
Beyond her athletic achievements, Ledecky remains an inspiration and role model for aspiring swimmers worldwide. Her humility, determination, and unwavering work ethic have endeared her to millions. In addition to her swimming career, she is also known for her academic excellence, having graduated from Stanford University with a degree in psychology in 2021.
3. Records and Achievements of Katie Ledecky
Katie Ledecky is a highly accomplished American swimmer who has secured numerous records and achievements throughout her career. She has established herself as one of the greatest female swimmers of all time, consistently dominating in freestyle events and leaving a lasting impact on the sport. Here are some of her notable records and achievements:
Olympic Success: Ledecky has participated in multiple Olympic Games and has amassed an impressive collection of medals. As of 2023, she has won a total of 7 Olympic gold medals, 3 silver medals, and set multiple world records in the process.
World Championship Titles: Ledecky's dominance extends beyond the Olympics. She has been equally successful in World Championships, where she has won an astonishing 15 gold medals. These victories have come across various freestyle distances, ranging from 200 meters to 1500 meters.
World Records: Over the course of her career, Ledecky has shattered numerous world records. Notably, she holds the fastest times ever recorded in the women's 400, 800, and 1500-meter freestyle events. Her stunning performances have often left her competitors trailing far behind and have solidified her reputation as a record-breaker.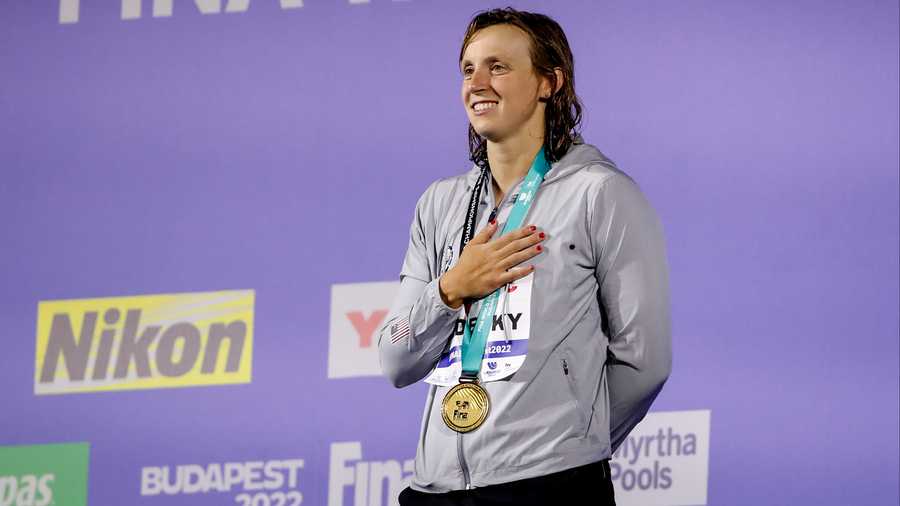 NCAA Triumphs: Before turning professional, Ledecky competed at the collegiate level for Stanford University. During her time there, she clinched several NCAA titles and played a significant role in helping Stanford secure team championships. Her contributions to the university's swim program were invaluable.
Long Course and Short Course Success: Ledecky has excelled in both long course (50-meter pool) and short course (25-yard or 25-meter pool) competitions. This versatility demonstrates her adaptability and skill across different swimming environments.
Dominance in Distance Events: Ledecky's true prowess lies in her ability to dominate the longer distance events, particularly the 800 and 1500-meter freestyle races. Her technique, endurance, and unparalleled work ethic have allowed her to consistently outperform her competitors in these grueling races.
Sportsmanship and Influence: Beyond her remarkable records and achievements, Ledecky is widely respected for her sportsmanship, humility, and dedication to her sport. She serves as an inspiration to aspiring swimmers worldwide and has helped raise the profile of women's swimming through her outstanding performances.
In summary, Katie Ledecky's records and achievements speak volumes about her extraordinary talent and contribution to the sport of swimming. With her outstanding Olympic success, world records, collegiate triumphs, and overall dominance in freestyle events, she has firmly established herself among the greatest swimmers in history. Her legacy will undoubtedly endure as a testament to her exceptional skill, hard work, and unwavering determination.
4. Katie Ledecky's Olympic Journey
Ledecky quickly emerged as a swimming prodigy, and her talent became apparent at a young age. She began competitive swimming at the age of six, initially focusing on shorter distances. However, it was her transition to distance swimming that truly set her apart.
Ledecky's breakthrough moment came at the 2012 London Olympics when she was just 15 years old. In her Olympic debut, she stunned the world by winning gold in the 800-meter freestyle event, smashing the previous record held by the legendary Janet Evans.
This victory marked the beginning of an incredible journey for Ledecky and laid the foundation for her dominance in the sport.
Over the years, Ledecky has continued to push the boundaries of what is considered possible in swimming. Her work ethic, determination, and unwavering commitment to excellence have propelled her to unparalleled success. She possesses a unique combination of sheer power, impeccable technique, and exceptional endurance, making her a force to be reckoned with in the pool.
In the subsequent years leading up to the 2016 Rio Olympics, Ledecky's dominance only intensified. She solidified her status as the world's best distance swimmer, breaking numerous records along the way. At the Rio Olympics, Ledecky put on a display of unparalleled greatness, claiming four gold medals and one silver medal. Her victories came in the 200, 400, and 800-meter freestyle events, and she also played a crucial role in the United States' gold-winning 4×200-meter freestyle relay team.
However, Ledecky's journey didn't end there. With each passing year, she continued to raise the bar and redefine what it means to be a dominant athlete. In the 2020 Tokyo Olympics, postponed to 2021 due to the COVID-19 pandemic, Ledecky once again left an indelible mark on the sport.
In Tokyo, Ledecky showcased her versatility by adding new events to her repertoire. She took home gold in the inaugural women's 1500-meter freestyle, a distance she had long advocated for, and also earned silver in the 400-meter freestyle. These victories brought her Olympic medal count to an astonishing total of ten, including seven golds, two silvers, and one bronze.
Ledecky's impact extends far beyond her individual accomplishments. She has become a role model for aspiring swimmers worldwide, inspiring a new generation to chase their dreams. Her dedication to community service and her grace both in victory and defeat further cement her status as a true champion.
As Katie Ledecky's Olympic journey continues, the world eagerly awaits her future endeavors. With her relentless pursuit of improvement and her unwavering passion for the sport, there is no doubt that she will continue to make waves in swimming and leave a lasting legacy. Ledecky has already etched her name in the annals of swimming history, and her story serves as a testament to the power of perseverance, discipline, and the pursuit of greatness.
5. Impact of Katie Ledecky on Women's Swimming
One of the most significant impacts of Ledecky's success lies in the visibility she brings to women's swimming. Historically, men's swimming has often garnered more attention and recognition than its female counterpart.
However, Ledecky's outstanding performances, both at the Olympic Games and World Championships, have helped level the playing field. She has become a household name, capturing the hearts and minds of sports enthusiasts worldwide, and elevating the status of women's swimming to new heights.
Moreover, Ledecky's achievements have shattered long-standing stereotypes about women's physical capabilities. By showcasing her extraordinary strength, speed, and stamina, she has proven that women can compete at the highest levels of athleticism.
Her dominance in traditionally male-dominated events like the 800-meter and 1500-meter freestyle has challenged preconceived notions and inspired countless young girls to pursue their dreams in the pool.
In addition to her individual accolades, Ledecky's contributions to relay events have been equally impactful. She has been an integral part of several record-breaking relay teams, helping her country secure gold medals in both freestyle and medley relays. Her ability to anchor a team and deliver exceptional performances under pressure has made her a role model not just for individual swimmers but also for those aspiring to be part of successful relay squads.
Ledecky's impact extends beyond the pool. Her relentless work ethic, humble demeanor, and commitment to giving back to the community have made her an inspiration both in and out of the water.
As a strong advocate for gender equality in sports, she has used her platform to champion causes such as equal pay for female athletes and increased opportunities for women in sports.
Ledecky's leadership and activism serve as a powerful catalyst for positive change, promoting inclusivity and empowering young women to pursue their athletic ambitions fearlessly.
In conclusion, Katie Ledecky's impact on women's swimming cannot be overstated. Through her exceptional skills, record-breaking performances, and unwavering dedication, she has transformed the sport and inspired countless individuals worldwide.
By defying stereotypes, raising the visibility of women's swimming, and advocating for gender equality, Ledecky has become a trailblazer and an icon in the world of sports. Her legacy will continue to shape the future of women's swimming for generations to come.
Q: What Illness Did Katie Ledecky Have?
Throughout her career, Katie Ledecky has maintained remarkable physical health. However, she faced a health issue in 2012 when she contracted a rare viral illness called "swimmer's itch" during open water training. Swimmer's itch, also known as cercarial dermatitis, is caused by an allergic reaction to certain parasites found in fresh and saltwater bodies. It resulted in a temporary setback for Ledecky, but she quickly recovered and returned to the pool stronger than ever.
Q: Is Katie Ledecky the Greatest Swimmer of All Time?
Katie Ledecky is undeniably one of the most accomplished and dominant swimmers in history, but determining whether she holds the title of "Greatest Swimmer of All Time" requires a comprehensive analysis of various factors.
Ledecky's list of achievements is truly remarkable. She has won multiple Olympic gold medals, setting numerous world records along the way. Her dominance in freestyle events, ranging from the 200-meter to the grueling 1500-meter distances, is unparalleled. Ledecky possesses an extraordinary combination of speed, stamina, technique, and mental fortitude that has allowed her to shatter records and consistently outperform her competitors.
One of the key arguments in favor of Ledecky's claim to the title of the greatest swimmer of all time is her sheer versatility. While many swimmers tend to specialize in certain strokes or distances, Ledecky has achieved success across a wide range of events. This versatility showcases her exceptional athleticism and adaptability, making her a force to be reckoned with in any race she enters.
Additionally, Ledecky's longevity in the sport sets her apart from her peers. She burst onto the scene as a teenager, winning her first Olympic gold medal at the age of 15. Since then, she has consistently dominated the international swimming stage, maintaining her excellence year after year. Her ability to sustain peak performance over an extended period demonstrates her exceptional talent, dedication, and work ethic.
Another factor to consider when evaluating Ledecky's claim to greatness is the impact she has had on the sport itself. Her performances have inspired countless young swimmers and fans around the world, propelling the popularity of swimming to new heights. Ledecky's influence extends beyond her individual achievements, as she serves as a role model for aspiring athletes and an ambassador for the sport.
However, it is important to acknowledge that determining the "Greatest Swimmer of All Time" is subjective and can be influenced by various biases. Comparing athletes across different eras is challenging due to advancements in training methods, technology, pool conditions, and competition levels. Swimmers like Michael Phelps, Mark Spitz, and others have also made compelling cases for this title through their remarkable accomplishments.
Q: Is Katie Ledecky a Better Swimmer Than Michael Phelps?
Katie Ledecky and Michael Phelps are two exceptional swimmers who have dominated the world of competitive swimming. While both athletes have achieved remarkable success in their respective careers, it is challenging to definitively determine whether one is a better swimmer than the other due to several factors.
Firstly, it's important to consider their individual specialties within the sport. Katie Ledecky primarily excels in distance freestyle events, where she has broken numerous world records and consistently outperformed her competitors. Her incredible stamina and efficient technique make her nearly unbeatable in races ranging from 400 meters to the grueling 1500-meter event.
On the other hand, Michael Phelps is renowned for his versatility and dominance across various strokes and distances. With a record-breaking 23 Olympic gold medals to his name, Phelps has proven himself as one of the greatest swimmers in history. His ability to excel in sprint events, such as the 100-meter butterfly, as well as longer events like the 200-meter individual medley, showcases his incredible range and adaptability.
Additionally, comparing the achievements of Ledecky and Phelps requires consideration of the competitive landscape during their respective eras. Swimming is a rapidly evolving sport, with advancements in training methods, technology, and nutrition affecting performance over time. When Phelps was at his peak, he faced tough competition from fellow elite swimmers such as Ian Thorpe, Grant Hackett, and Ryan Lochte. Similarly, Ledecky has had formidable rivals like Ariarne Titmus and Sarah Sjöström challenging her in recent years.
Furthermore, it's worth noting that the men's and women's swimming events differ in terms of race distances and stroke variations. This discrepancy can make direct comparisons between Ledecky and Phelps somewhat challenging. While Ledecky's times and records in women's events are undeniably impressive, Phelps' accomplishments in men's events cannot be directly equated due to physiological differences between genders.
Ultimately, determining who is the better swimmer between Katie Ledecky and Michael Phelps comes down to personal judgment. Both athletes have achieved unparalleled success in their careers, pushing the boundaries of what was previously thought possible in swimming. They have captivated audiences with their extraordinary performances and left a lasting impact on the sport.
Rather than focusing on comparing their greatness, it is more appropriate to appreciate and celebrate the unique talents and contributions of both Ledecky and Phelps. They are both remarkable swimmers who have left an indelible mark on the history of swimming and continue to inspire future generations of athletes.